Call in Your Stock Questions




Receive the WSMS Newsletter
and
Updates from NAMC Free!

Free Registration:




 
Name:




 
E-mail Address:





**Privacy Policy: Emails are not shared with third parties, they are only used for NAMC related material ONLY**


CNN Money
Market Watch
SEC
NASD
OTCBB
Free Edgar
Pink Sheets
NYSE
AMEX
NASDAQ
IPO's
REG FD
Economic Calendar
Streetiq.com

The NAMC Newswire
"WALL STREET TO MAIN STREET"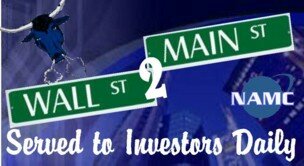 Want to Shoot us out your Stock Question?
Just Fill Out The Form Below and Ask Away,
NAMC Encourages Reader/Listener Participation
To call in your questions for the NAMC Radio's WSMS segment just call toll free at between the hours of 6:30pm and 12am EST and you could have your voice heard by an international audience. Make sure to include your Name, City, State and your brief question.
**Please make sure to include the stock symbol.
**Privacy Policy: Emails are not shared with third parties, they are only used for NAMC related material ONLY**
**Updates are Emailed to Subscribers Daily.**